Posted by Safe Living Technologies on 16th Jan 2023
New Worlds Best RF Meter - Safe and Sound Pro II RF Detector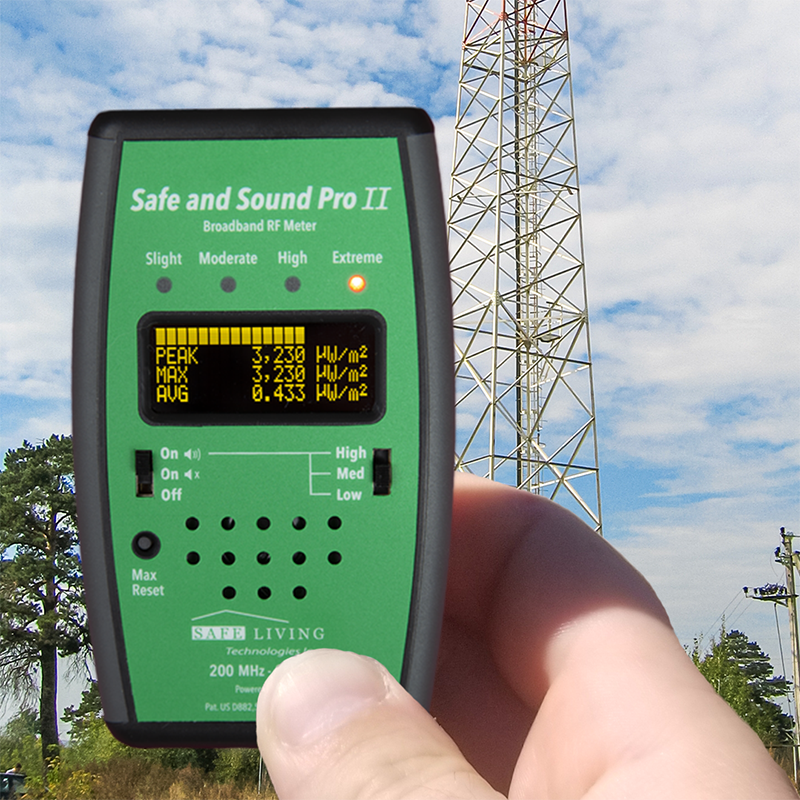 Safe Living Technologies is pleased to introduce the Safe and Sound Pro II RF Meter.
Designed to meet our professional standards of accuracy and reliability, the Safe and Sound Pro II features:
A true ±6dB response from 400 MHz - 7.2 GHz and a full frequency response from 200 MHz - 8 GHz

Linear measurements 0.1 - 1,000,000 μW/m2
Reduced tolerance up to 3,180,000 μW/m2 or 34.6 V/m
Reduced tolerance down to 0.005 μW/m2 or 0.001 V/m
High sensitivity and resolution at low levels
Ability to detect very short pulses (< 5 μs) including 5G
Can display units of measure in μW/m2 or V/m
Temperature compensate accuracy - 20 to + 60 °C
Long battery life: > 15 hours with speaker on
A clear display with PEAK, MAX & AVG readings
Loud adjustable speaker sound output - 3 levels
1/8" stereo headphone jack
Continuous operation via USB power
This sensitive meter is capable of measuring potentially harmful RF or microwave radiation from any continuous or pulsed digital sources. To help identify these various sources, the Safe and Sound Pro II includes a built in speaker with adjustable volume levels. Each source has its own unique sound signature.
To learn more about this product, Click Here
To learn more about the Global RF Monitoring Project, Click Here